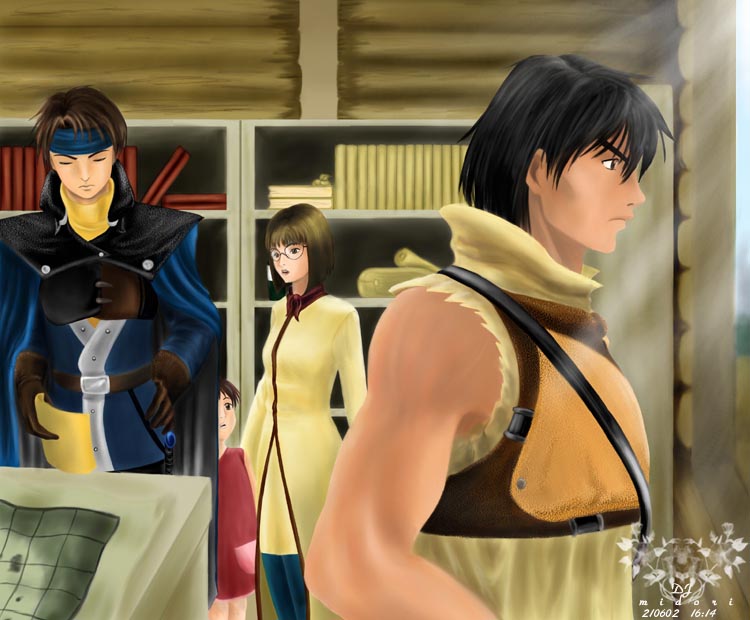 Viktor, Flik, Apple and Pilika waits for Hero to return from Ryube **SPOILERS!!**| Painter 6 | 86.1 kb
A biiiiiiig spoiler I might add..... Don't read this if you haven't played the game (if you want to read, go ahead)
Luca Blight, the mad prince of the Highland Royal family, slaughters the village Ryube for pure entertainment and warm up for war against Muse, their long time enemy. (Did I get that right..?)
They have destroyed a village called Toto a while back. (That's where the little girl in pink is from and the only survivor)
The Mercenaries Fortress was alerted and thus have to get ready. Flik and Viktor sends Hero (with his best friend Jowy) to Ryube to recruit Tsai the Divine spear to help fix some rusted Fire Spears that they kept from the previous war in Toran 3 years ago.
Here they were told that Ryube is being burned to the ground so Viktor gets worried like a fuddy duddy while the others discuss their strategy to fend the Fort.
Apple is the strategist here.
(My thoughts) Apple tells Pilika to wait outside for the Hero and Jowy to return...
I'll end it there ^^;;
I pretty much like how the whole thing came out except the interior design. I suck at these kinds of things but I gave it my all in this picture
(ye right! *rolls eyes*, goes back to draw 3d cubes and whatnot ><)
A nice comment from Terra/YY/Coffingirl who told me that my colours are too flat (I noticed too but was too lazy to do a thing about it =P )
I'm too chicken to add darker colours so I ended up making a layer with the same colour as the characer/shelf/clothes... (blah blah blah)
with the same colours or lighter and the result came out pretty good. You're always my saviour YY!!
ありがたい =^o^=

i hate the bookshelf!!! >=O *breaks it apart*
Ah well....i need to work on those wood patterns...even tho there's a wooden shelf and a wooden desk in front of my face,
I can't seem to understand how to draw it out........
At least I managed the walls ^^;;
Yesterday, those wood wasn't there and I thought it looks awfully plain without them
(in the game they're there) so I just added it to fill it up and not look too plain...feeling too lazy to tweak it