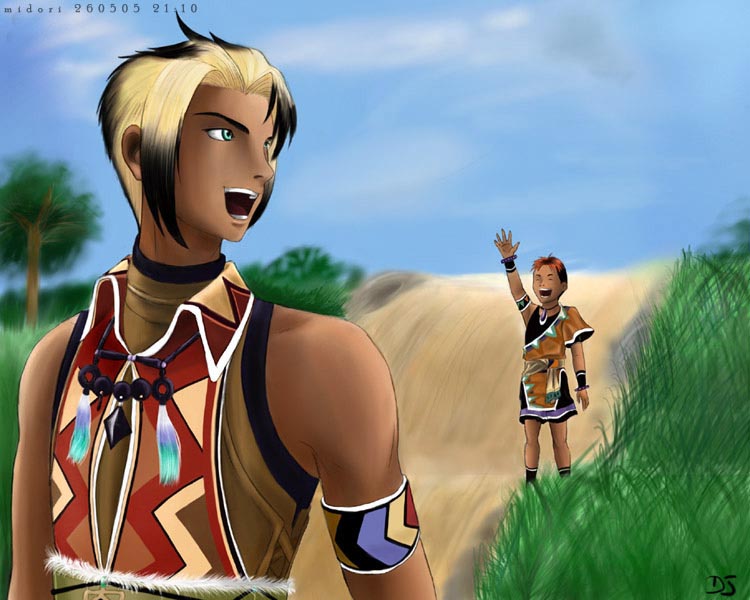 Hugo and Lulu *possible spoilers* | Painter 6 | 87.6 kb
I'm not sure if this IS a spoiler.....The game isn't even out yet... *is gonna get it anyway when it is released even tho she doenst't have a PS2 yet*
Lulu (the orange haired boy), is a good friend of Hugo (Lulu acts more like a little brother to Hugo than a friend)
I'm guessing that Hugo went with...er....Major Joe (I think that's the ducks name...)
to get a few stuff in another city/clan and when he returned home....lalalalala!
I'm not spoiling it for you anymore!
Anyways, I used the Digital Airbrush to do the entire thing.......
But blistering barnacles! I never knew the airbrush is THIS good.(I kinda hate the photoshop one....*scratches head*)
It gave a real solid colour to the patterns on the clothing (in which I paid special attention to)
Speaking of pattern details, I really admire how the artist of Suikoden did the clothing designs for every single character
It's hard to get them right...but I managed to finish it up with.......a lot of errors! XD
Ah well, practice makes perfect ne?
Even the details of the belt and necklace and other ornaments made me go drooling in front of the screen.
The background came out well too.....for some reason I hate the sky (but I love the clouds) and I hate the pale coloured soil...
....it looks like a dirty waterfall....